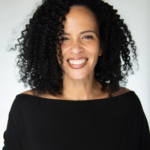 Dr. Raychelle Burks – @DrRubidium
Analytical Chemist, Forensic Scientist & Science Communicator
American University
Making Progress with Social Justice and Sensing
While working for social justice and designing sensing systems may seem unrelated endeavors,
they share a common core. Doing better.  In this talk, Dr. Burks how equity guides her
analytical work in forensic science.
After working in a crime lab, Dr. Burks returned to academia, teaching, and forensic science research. Her research team is focused on the development of field portable colorimetric and luminescent sensor arrays for the detection of analytes of mainly forensic interest such as explosives, chemical weapons, controlled substances, and latent prints. She writes a science-meets-true crime column called "Trace Analysis" for Chemistry World. Beyond forensics, Dr. Burks collaborates with colleagues in a variety of fields on projects where low cost and reliable rapid screening methods are needed. An in-demand science communicator, Dr. Burks regularly appears on TV, in podcasts, at large genre cons such as DragonCon and GeekGirlCon, and other venues to converse on chemistry, forensic science, and STEM meets pop culture. She is the 2020 recipient of American Chemical Society's Grady-Stack Award for Interpreting Chemistry for the Public. She is a member of several local, national, and international committees, task forces, and projects focused on social justice and STEM. In 2021, Dr. Burks was listed as one of the "6 women who are changing chemistry as we know it" by BBC Science Focus Magazine.