Message from the 2023 EAS President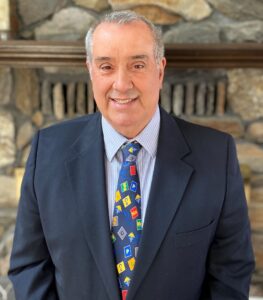 Spring is around the corner and the Eastern Analytical Symposium Board, comprising a diverse group of volunteers, are hard at work preparing for EAS 2023 (Monday, November 13, 2023, through Wednesday, November 15, 2023). Attendees of our fully in person Symposium in November will enjoy meeting other Analytical Scientists face to face. Please mark your calendars to save the date.
This year our theme is "Better Life with Analytical Chemistry", depicted by a beautiful image of a sunny beach scape. This image could have been taken along the many miles of beautiful beaches up and down the Eastern seaboard. Maybe you recognize the location. The theme "Better Life with Analytical Chemistry" can be interpreted as the field of science aiding in research, product development and product quality to improve our quality of life. It can also be interpreted as a great career choice which results in a better life for you and your family. The technology available to today's scientists continue to become more and more powerful. A variety of disciplines rely on the newest technology to stay ahead of their competitors. Analytical instruments are used by many industries including Pharmaceuticals, Forensic, Environmental, Cosmetic, Food and Flavor, Cannabinoids, Clinical Diagnostics, Energy, Science Education, and others. Society increasingly relies on and expects that science and technology will continue to improve their quality of life through the development of better products.
Whether you're a student, instructor, or a science professional working in industry, EAS is an excellent venue to either present a paper or learn about new technologies. Many of you have been working hard on your research projects. Please consider sharing your research work by submitting an abstract and presenting a poster at EAS. EAS invested in 55" TV monitors to professionally display your poster along the enclosed wide bridge connecting the Crowne Plaza to the convention area.
Advances in technology continue to improve analytical instrument functionality as well as enhancing the capabilities for a variety of applications. Maybe it's time for you to upgrade the equipment in your laboratory. Many of the major analytical instrument vendors will be presenting their state-of-the-art technology and products Monday through Wednesday in various rooms at the Exposition. Please download our mobile app or pick up a program when you arrive so you can find the location of the many vendors.
Congratulations to the 2023 EAS Award winners which are listed on our website, eas.org. Also in this Retort and on our website is information about updates, activities, a list of exhibitors and sponsors, online and in-person short courses, workshops, abstract submission dates, registration information (registration opens in August) and more. Please follow us on Instagram, Twitter, LinkedIn and/or Facebook. We hope you will join us at the Crowne Plaza Princeton Conference Center, Plainsboro, NJ in November.
Frank Romano
EAS 2023 President