LOCATION: 
EAS will be held at the Crowne Plaza Princeton-Conference Center & Hotel, 890 Scudders Mill Rd, Plainsboro, NJ 08536 (phone: 609-936-4200), located in the community of Plainsboro, NJ, just minutes from downtown Princeton. This location is ideally situated between Philadelphia and New York City. It is easy to reach from within New Jersey and the Mid-Atlantic region using some of the following highways: the New Jersey Turnpike, the Garden State Parkway, I-95, I-195, I-295, and Routes 1, 33, 133, 130 & 206.
PARKING & LOCAL SHUTTLE SERVICE:  
Parking space is available at the Conference Center and at the adjacent Crowne Plaza Hotel and Holiday Inn Express.  Overflow parking is available at the nearby (0.7 miles) Princeton Alliance Church at 20 Schalks Crossing Road, Plainsboro, NJ.   See map.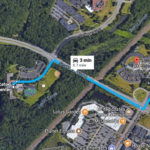 **EAS Trolley shuttle service will be available every 10 minutes from 7:00 am to 6:30 pm on Monday and Tuesday to transport you from the overflow Church parking lot to and from the Conference Center, which is just 0.7 miles away**
RAIL SERVICE: 
NJ Transit Trains from Newark International Airport via the Northeast Corridor line is an economical and convenient method of transportation from Newark Airport and other locations in NJ, NY and PA.
The closest train station is Princeton Junction. It serves both New Jersey Transit (www.njtransit.com ) and Amtrak (https://www.amtrak.com)   NJT / SEPTA trains from Philadelphia and NJ Transit trains from NYC are frequent; see schedule.  Amtrak offers service to/from New York City, Metro Park in NJ, Providence, Boston, Philadelphia, Wilmington DE, Baltimore, and Washington DC.
EAS will not have a shuttle to/from the train station.
AIRPORTS:
Newark Liberty International Airport or Trenton-Mercer Airport (Frontier Airlines) are the closest and most convenient airports to the conference center.  Philadelphia International Airport is also an option.
CAR RENTAL: 
Renting a car at the airport can be an attractive alternative for easy access to the Crowne Plaza Conference Center, nearby restaurants, and shopping, for visiting friends and colleagues, and for pre/post-EAS travel and tourism. All three airports offer car rental agencies.  See driving directions
AIRPORT SHUTTLE AND PRIVATE CAR SERVICES: 
Shuttle and car services offer economical ride-sharing and door-to-door services from Newark Airport (EWR) to the Crowne Plaza Conference Center by tracking and coordinating car/shuttle reservations (cars: 3 passenger maximum; shuttle vans: 10 passengers maximum). Ride-share availability is subject to an individual passenger's arrival and departure schedules. Call for reservations at least 24 hours in advance, and be sure to mention EAS.
State Shuttle 1-800-427-3207; 1-973-729-0030 www.stateshuttle.com
A-1 Limousine 1-888-546-6888; 1-609-951-0700 www.a1limo.com
Reserved cars and shuttle vans meet passengers at the Baggage Claim level of all airport terminals; nearby outside there is also a taxi stand attended by a dispatcher during peak hours. Unreserved taxis serve at flat rates, one price per car to destination, plus a fee per bag for luggage over 24 inches (60 cm.) in length.
UBER AND LYFT:
Uber and Lyft service may also be available at airports and the train station.